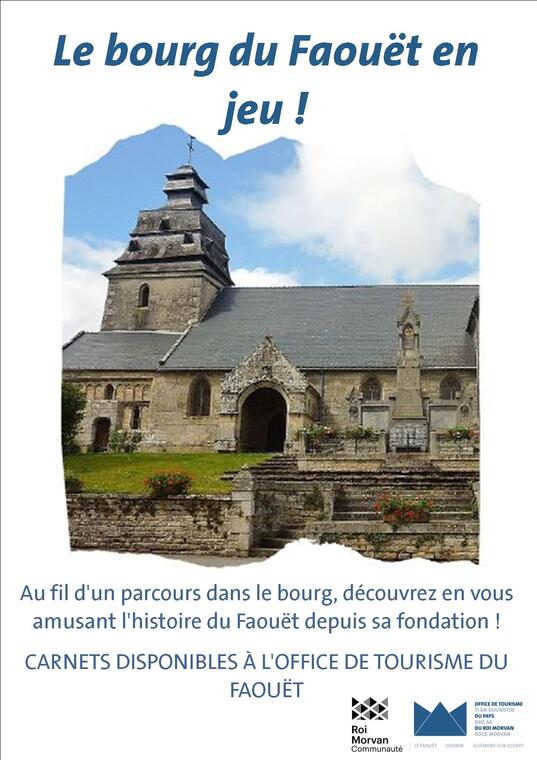 Le bourg du Faouët en jeu !
Heritage event , Visit , Animations
in Le Faouët
Autonomous game trail to discover the history of Faouët.

The origin of the seigneury dates back to the 11th century, the first lords of Faouët being mentioned as a cross in the 11th and 13th centuries. Written sources, more talkative at the dawn of the 14th century, tell us that the estate returns by marriage to the Bouteville family. To find out more, find the "Le bourg du Faouët" game trails available at the Faouët tourist office or by download. Learn while having fun, ages 7 to 77!
From

January 1, 2023




until

March 30, 2023

From

April 1, 2023




until

June 30, 2023

From

July 1, 2023




until

August 31, 2023
Tuesday

10:00 AM - 12:30 PM

2:00 PM - 5:30 PM

Wednesday

10:00 AM - 12:30 PM

2:00 PM - 5:30 PM

Friday

10:00 AM - 12:30 PM

2:00 PM - 5:30 PM

Saturday

10:00 AM - 12:30 PM

2:00 PM - 5:30 PM
Tuesday

10:00 AM - 12:30 PM

2:00 PM - 5:30 PM

Wednesday

10:00 AM - 12:30 PM

2:00 PM - 5:30 PM

Thursday

10:00 AM - 12:30 PM

2:00 PM - 5:30 PM

Friday

10:00 AM - 12:30 PM

2:00 PM - 5:30 PM

Saturday

10:00 AM - 12:30 PM

2:00 PM - 5:30 PM
Monday

9:30 AM - 1:00 PM

2:00 PM - 6:00 PM

Tuesday

9:30 AM - 1:00 PM

2:00 PM - 6:00 PM

Wednesday

9:30 AM - 1:00 PM

2:00 PM - 6:00 PM

Thursday

9:30 AM - 1:00 PM

2:00 PM - 6:00 PM

Friday

9:30 AM - 1:00 PM

2:00 PM - 6:00 PM

Saturday

9:30 AM - 1:00 PM

2:00 PM - 6:00 PM

Sunday

10:00 AM - 1:00 PM